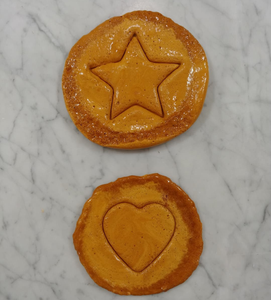 Have you seen the snow squid game???
DO YOU KNOW WHAT THESE ARE???
DALGONA KANDY...
Fun puzzle. game kandies... Try to cut out the center shape without breaking it...
No frets if it does break add your Kandy to warm milk and let dissolve for a sweet delicious warm beverage. Can also be added to coffee or tea. Or just munch away for a sweet Sea Foam Sponge Kandy Treat.
6 CT mixed puzzle shapes
Recommended for pick-up orders only. Not responsible if broken during shipping.


I Love Being...
"YOUR PERSONAL KANDY MAKER"❤
Have Your Kandy Made "YOUR" Way
.
#kimmieskandies #fun #Squid game #dalgona